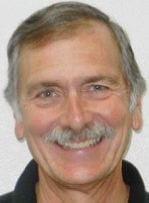 Voice In Chorus
Bass
Board Position
Member at Large for four years
How long have you been with Orpheus?
8 Years
What made you want to join a chorus group?
I initially started singing in our High School Concert Choir and a small mixed select chorus. After school I took a long break for approximately 37 years, After building a career, I realized I really missed singing. I joined the mixed Tempe Community Chorus for 5 years and then happened to attend an Orpheus Holiday Concert Series. I loved the powerful sound of a men's chorus, and decided to audition. I have never regretted my change. The quality of the music product along with the friendships gained is truly a blessing to our audience and our members. When you can see the pleasure through smiling faces and sometimes tears of joy, it makes all the hours so worthwhile. I have always said and felt that Orpheus is an emotional musical experience.
During your time at Orpheus, what has been your favorite song or performance?
My favorite performance was when the chorus went to Pasadena, California a few years ago to perform before approx 900 musicians/educators at the ACDA Regional Convention. That concert was an experience of a lifetime especially when we received two standing ovations. I actually had several people stop me on the street the next day to congratulate me on a great performance having seen my Orpheus polo.
What are your favorite hobbies outside of Orpheus?
I am an avid motorcycle rider. I love touring on a motorcycle that has included a tour of the European Alps. I also enjoy kayaking Arizona lakes and bicycling.
What is your current job or career you've retired from?
I am retired from a career as a Commercial Insurance Agency owner here in Phoenix.
If you could perform next to any singer/artist in history (Dead or alive) who would you choose and what song would you choose to sing with them?
I enjoy all kinds of music so picking one artist is difficult. However, I don't know of any other situation that would give me more pleasure than that of singing with my fellow Orpheus members.
What has been your favorite part of being with Orpheus thus far?
I guess being a part of such a fine group of talented singers is truly a life highlight for me. Along with that is the pleasure of working with members from all walks of life in the management of a 90 year old musical institution. They are some of the finest and most talented people I have ever had the opportunity to work with.
More Interviews