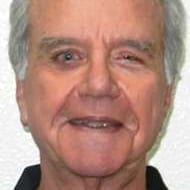 Voice In Chorus
2Tenor
How long have you been with Orpheus?
Since 2012
What made you want to join a chorus group?
I was actually recruited by Brook's father, Brian Larson. Brian and Connie Larson lived in my community, Las Palmas in Mesa, at the time. At the time, I had produced a series of Karaoke concerts at Las Palmas and Brian heard me sing. Connie and I also sang together in the Las Palmas Choir. So, when Brian invited me to attend a Velda Rose concert, I met Brook after the concert and was hooked.
During your time at Orpheus, what has been your favorite song or performance?
Many favorite songs, but for sure my favorite is "Harriet Tubman" and I hope we sing it this spring and on our tour. My favorite performance was definitely in Pasadena to the Western Region of American Choral Directors. We had not had one like it prior in my time, and we have not had one like it since.
What are your favorite hobbies outside of Orpheus?
I am a traveler. I have had a motorhome for years and have traveled all over our beautiful country. I mostly travel nationally in the summer months and regionally in the winter months. Also, I am a writer and so far have written two books about my interests: one is "political" and is titled "Get Real America", and the other is about "personal development" and is titled "The Road to Happiness, Prosperity and Peace". I am currently writing a third book about our current political environment titled: "What Caused America's Great Divide?"
What is your current job or career you've retired from?
I am retired, but don't feel like it and will never admit it. I spent 25 amazing years with IBM in the computer industry. My roles were Sales/Account Executive, Sales/Account Manager, and Sales/Account Representative. Later I worked for a small but productive personal development firm in Southern California, where our focus was on Organizational Accountability, Team Accountability, and Personal Accountability.
If you could perform next to any singer/artist in history (Dead or alive) who would you choose and what song would you choose to sing with them?
Neil Diamond – I sing and perform many of his songs karaoke style. I would choose one of his lessor known songs, titled: "We". Check it out. Sample lyrics = "It's not about You, It's not about Me, Love is all about We".
What has been your favorite part of being with Orpheus thus far?
Commitment and fellowship are big factors with me. But, my most favorite part are all the concerts which we perform. I get more of a charge when our audiences are larger and very receptive to our work. I really believe we give our audiences a gift each time, but the gift is magnified to larger and receptive audiences.
More Interviews