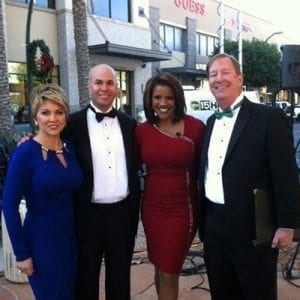 Voice In Chorus
Tenor I
Board Position
Past President
How long have you been with Orpheus?
I started singing with Orpheus in 1976, fresh out of college. I took me second year off on a leave of absence because of work conflicts and the two years off in the 90s for the same reason. This is my 38th year singing with Orpheus out of the last 41.
What made you want to join a chorus group?
I was in the Phoenix Boys Choir during the time that they were sponsored by Orpheus.  I became familiar with Orpheus during that time as we did concerts together.  I got out of college in July 1976 and auditioned for Orpheus in September 1976.
During your time at Orpheus, what has been your favorite song or performance?
As you can probably imagine, in 38 years of singing there have been many, many favorite songs and performances; too many to narrow down to one.  The three that come to mind are all associated with Orpheus's overseas tours; singing a joint concert with the Cairns Choral Society in Australia in 1987, singing the Battle Hymn of the Republic accompanied by a National Guard band from Utah and one from Russia at a naval base outside of St. Petersburg, Russia in 1990, and singing with a mixed chorus in a joint concert in Edinburgh, Scotland in 1995 come to mind.
What are your favorite hobbies outside of Orpheus?
I do a lot of administrative work for Orpheus in my spare time, including keeping up the musical library and writing grants.  Other than that I like to read and hike.
What is your current job or career you've retired from?
I am retired now.  I spent just short of 33 years with the Phoenix Police Department.
If you could perform next to any singer/artist in history (Dead or alive) who would you choose and what song would you choose to sing with them?
There are so many great artists that it is difficult to narrow down.  Being a tenor, I would be remiss if I didn't mention Andrea Bocelli.  I'm not in his league (or anyone else's mentioned here) and I'm afraid I would just end up sitting and listening.  I am partial to the versatility of Jennifer Nettles and would love to sing with her.  One of my favorite videos is Carrie Underwood and Vince Gill singing "How Great Thou Art".  What fun that would be to sing with someone who performs with that kind of passion.  I could sing harmony on that and it would be the opportunity and thrill of a lifetime.
What has been your favorite part of being with Orpheus thus far?
Friendships.  Plain and simple.
More Interviews